Help us wrap up the season at the Parma Heights Pool with our 1st dog swim!
Register Here:https://cityofparmaheights.activityreg.com/selectactivity_t2.wcs?leaguesid=389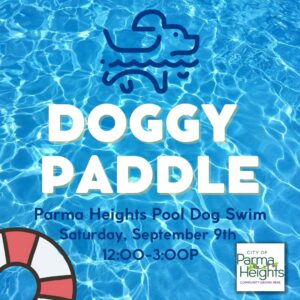 Welcome to the Parma Heights Dog Swim at the Parma Heights Municipal Pool. Today's event is sponsored by the Parma Heights Recreation Department. All posted pool rules apply to today's event. Please observe the following additional rules and regulations.
• This event is open to dogs only.
• Owners must be 18+ and are legally responsible for their dogs and any injuries they may cause.
• Aggressive dogs are not permitted at any time. An aggressive dog is defined as a dog posing a threat to human beings or other dogs. See Parma Heights Codified Ordinance 618.24.
• Any dog previously deemed to be vicious or dangerous, as defined by Ohio law, are prohibited.
• Dogs must be licensed and vaccinated. If requested, dog owners must be able to provide proof of vaccinations (Parvo, Rabies, and Distemper) as required by the State of Ohio.
• Only dogs 4 months and older are permitted in the pool area.
• Due to safety and sanitary concerns, only dogs are allowed in the pool; pet owners are prohibited from entering the pool.
• Lifeguards are present to maintain the safety of all human patrons. Lifeguards are not trained to assist dogs that may become tired or distressed. If you are not sure of your dog(s)' swimming ability, please keep them in the shallow pool.
• Dog food and treats are not permitted inside the pool area.
• Dogs must be leashed while entering and leaving the pool area.
• Dogs off leash are limited to one dog per person inside the pool area.
• Dogs must be under voice command at all times. If your dog can not be recalled you will ask to leave the facility.
• The Manager-on-Duty is the final decision maker on any rules or policies in question. Any dog determined to be disruptive, at the sole discretion of Parma Heights Recreation Department and personnel, must be removed from the premises immediately. The Manager-on-Duty may implement additional rules for the safety of all involved.
• The City reserves the right to refuse entry with or without cause, for any reason, including but not limited to the items cited in this notice.
We hope you enjoy today's event. Please remember to clean up after your dog.